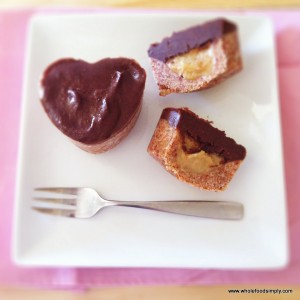 Caramel Cups
10 medjool dates, seeds removed
2 cups desiccated coconut
Place the ingredients into your blender or food processor and blend until broken down to a fine, sticky crumb.
Fill the holes of a silicon muffin mould with the crumb and press it firmly into the base and sides, leaving an indent in the centre. You can see in the picture that my sides are reasonably thick.
Place in the fridge or freezer to set.
Filling
2 tablespoons honey
2 tablespoons hulled tahini
Using a fork or spoon combine the ingredients until smooth and well combined. This is delicious, refrain from eating it.
Spoon the mixture evenly into your caramel cups. Return the cups to the fridge.
Topping
2 tablespoons of honey
4 tablespoons cacao or cocoa
6 tablespoons coconut oil
Using a fork or spoon combine the ingredients in a cup, if you coconut oil has completely liquefied you might like to place this in the fridge for a moment to thicken slightly. Alternatively if your coconut oil is very solid you might find it easier to do this in a blender or food processor.
Top the cups with the chocolate and place in the fridge to set.