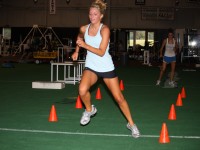 Contact Dave on 0404 082 770 NOW to book your place.  It's a MUST for those looking to improve their running for speed and sports! THERE IS NO SUBSTITUTE FOR SPEED!
One Day Sport-Speed and Agility Camp
Perfect for the youth athlete wanting to improve their Speed, Acceleration, Change of Direction Speed and Agility, this One Day...
Read more