If the answer is no...don't fear! David has been a registered training professional for years!  So what is a registered training professional?  You can read more about the scheme below:
Exercise Professional Registration Scheme - Recognising the qualifications, expertise and experience of Fitness Instructors and Personal Trainers
---
The Fitness Australia Register of Exercise Professionals is a...
Read more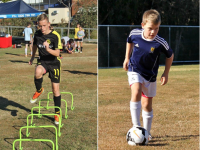 Those of you who have (or have had) children training with me, especially those who trained 1:1 with me throughout the most heavily restricted COVID-19 period, should find the following short article very interesting. You will see reference to many of the philosophies that I agree with such as long term, progressive athlete development, dynamic...
Read more